Demystifying Scholarship English
–Sian Evans
The NZQA Scholarship English exam is a daunting prospect for many teachers, largely because so little is known about how it is marked. Well, I'm here to provide you with a not-at-all-endorsed-by-NZQA demystification of what your students need to be able to do to get Scholarship. Grab yourself a cuppa and sit down for a read.
The basics:
The exam consists of three essays, each of which is marked out of 8

Although numbers of students attaining Scholarship are closely monitored, it is still a standards-based assessment

To gain Scholarship, a student should aim to achieve a minimum grade of 4/8 in each section, and a total of around 14/24 (for Scholarship) or 21/24 (for Outstanding).
Performance descriptors:
The performance descriptors used in marking are published at the end of each marking round

They do not vary substantially (or at all) from year to year

The same descriptors or achievement criteria are used for each of the three essays. Ensure that you and your students are familiar with them.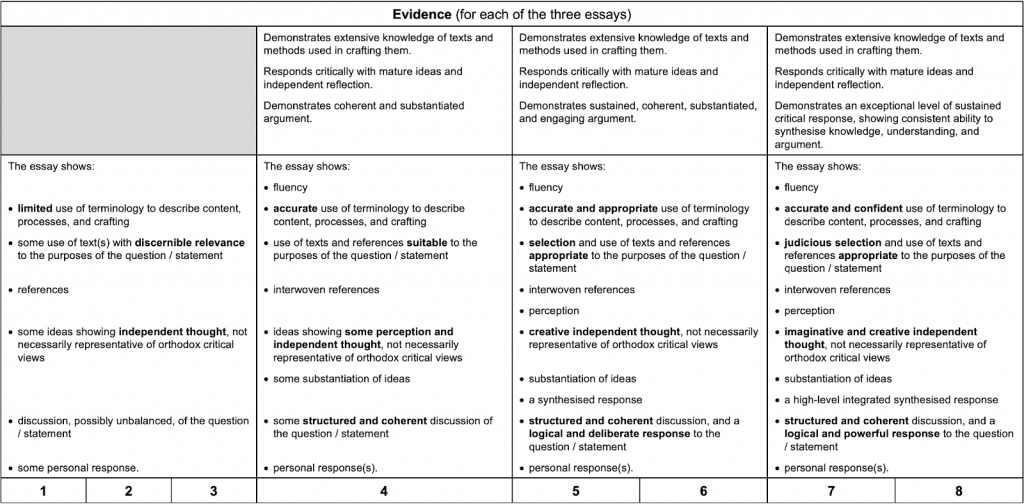 What do the numbers mean?
Think of the 0-8 scale as mapping onto what you already understand about the expected standard of student work at NCEA Level 3

0-3 would correspond to a Not Achieved, Achieved or Merit at NCEA Level 3


(student is not working at Scholarship level)

4 is the equivalent of a strong Excellence at NCEA Level 3
(

student is close to Scholarship level but not quite there in this essay. Two 5s and one 4 could get you Scholarship overall. Three 4s probably would not)

5-6 is Scholarship level. This is higher than an E at NCEA Level 3.

7-8 is Outstanding Scholarship level. This is considerably higher than an E at NCEA Level 3.
What do the descriptors mean?
Core criteria (at band 4) is similar to what we would expect for an Excellence at NCEA Level 3:

Fluency 

Terminology 

Selection of texts and references

Independent thought

Structured response to the question

Personal response

Scholarship criteria (at band 5 and above) contains some key differentiators:

Substantiation of ideas

Synthesis

Substantiation of ideas

comes down to a well-structured argument. Focus on teaching students to:

Think critically around a topic on the fly (discussion, discussion, discussion)

Construct insightful and coherent thesis statements (drills, drills, drills)

Synthesis

comes down to essay and argument structure:

Lead with ideas, rather than quotes or scenes or techniques

Structure paragraphs around ideas, rather than around texts
Below is a visual I use to teach my students to construct a synthesised Section A essay, that is framed around ideas rather than around the texts: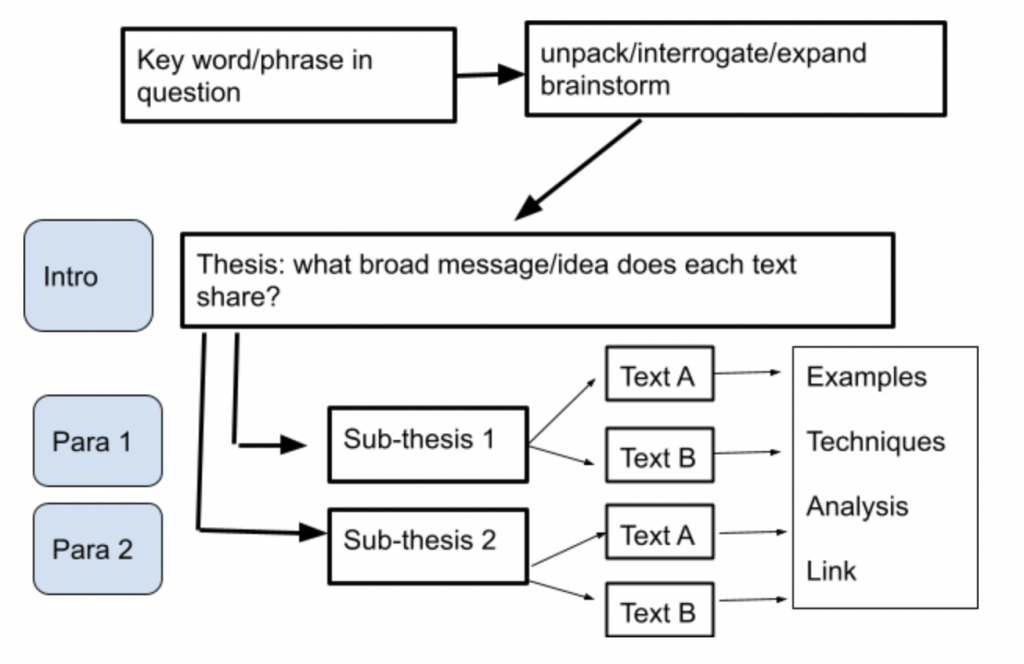 Sian Evans may or may not have anything to do with the Scholarship exam at a national level and wouldn't tell you if she did. Twenty of her students entered the Scholarship exam last year, and thirteen of them passed it. 
A fabulous resource to support your scholarship teaching is Into the Woods. This textbook is intended to empower teachers and students to approach texts in different ways in the classroom.